Make Intelligent Decisions with Accurate Analytics
CFT Consulting is an experienced technology partner who can help you get the most out of Oracle's OBI tool. We understand the importance of leveraging the right tools for your specific needs and are committed to helping you succeed in your industry.
Oracle Business Intelligence Expertise That Goes Beyond Technology
Oracle's BI portfolio includes various business intelligence (BI) tools, such as Oracle HCM Suite, that help organizations capture data and make sense of it to improve decisions. With the right combination of data collection, analysis, interpretation and presentation technologies, businesses can gain real-time insights into their performance across multiple dimensions - customer experience included.
Architecture:
Too often, businesses rely on outdated or inaccurate data that doesn't reflect their actual performance. Business intelligence Architecture is the process of using data and analysis to improve decision-making. It is used to create insights that allow businesses to make better decisions, understand their customers better, and assess how they are performing.
Strategy:
CFT helps you to make the most of your application capabilities and use the best analytics tools while minimizing risks. By updating business processes, we can ensure that you are using the right data to make informed decisions and take the appropriate actions. In addition, we work with you to develop a budget that is realistic for your needs.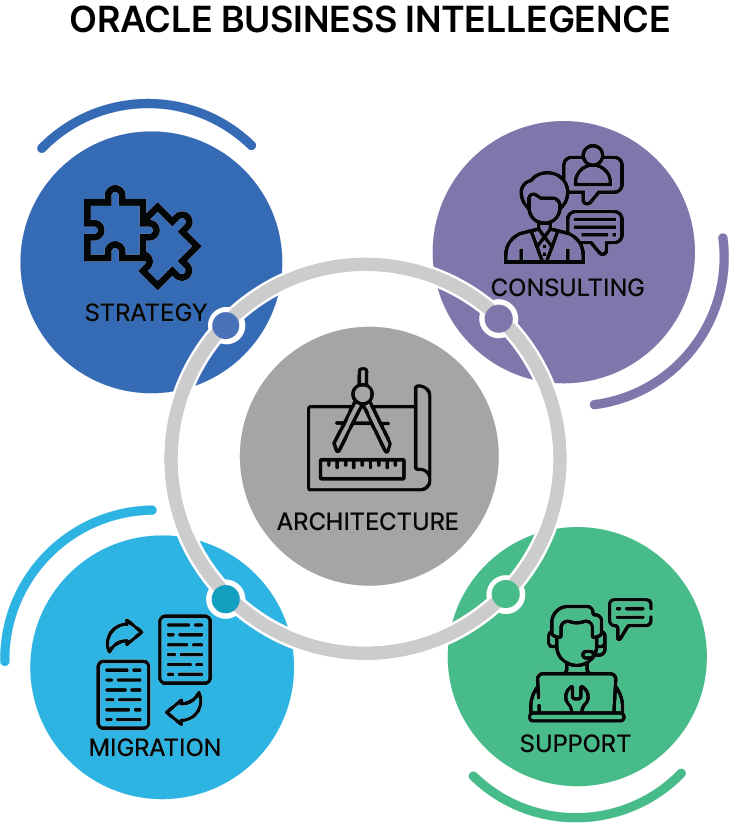 Consulting:
We consult for developing, configuring, mapping, testing and securing BI solutions for businesses of all sizes. We also provide training to help you learn how to use our tools effectively.
Migration:
With CFT you can improve your organization's ability to manage information effectively by deploying new tools and upgrading existing analytics applications, overseeing cross-platform migrations involving business objects, identifying inconsistencies in data using rules management functionality, making informed decisions about whether or not to keep certain pieces of content based on performance criteria.,and enforcing user policies.
Supporting 5 different time zone:
Our customer care team is available 24/7 to answer any questions or provide support. We have a global team of specialists who are dedicated to providing the best possible service and support. In addition, we offer onsite, nearshore, and offshore business intelligence support and development services that can help you optimize your systems for improved performance.
Business Intelligence That Drives Better Decision Making
Oracle Business Intelligence (OBI) is a powerful tool that can help your business make critical decisions. However, if you're not using it to its fullest potential, CFT Consulting can help you take full advantage of Oracle BI by tailoring it to fit your organization's specific needs.